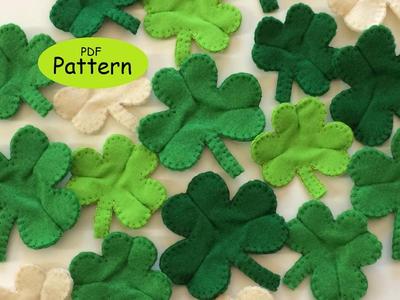 Make your own St Patrick's Day Decorations
trebol, lucky, clover, leaf, leaves, fall, banner, give, thanks, decoration, decor, adornos, adorno, ornament, shamrock, leprechaun, patricks, decoration, decor, fiesta, felt, fieltro, pattern, patron, sewing, gingersweetcrafts
fieltroteca presents you with this pattern made by Gingersweetcrafts with which you will learn to do a Make your own St Patrick's Day Decorations step by step, in an easy and simple way.
This is a tutorial to make a lovely pattern of trebol to knit with felt with clear and detailed explanations and also accompanied by various photos that will guide you during the creation of your work.
If you like lucky, we encourage you to not hesitate and make it since it is designed so that it can be done by both a beginner and the most advanced of the students.
But if this was not the pattern you were looking for, don't worry, we are sure that you will find it at fieltroteca. You just have to keep surfing our website.
We have no doubt that you will manage to create a project equal even better than the original one. Cheer up!
Related patterns
You could like
This listing is for the sewing pattern and tutorial to make felt shamrocks. Learn to make beautiful shamrock garland and ornaments. Whether you are a beginner or experienced in sewing, these simple instructions will help you make your own St. Patrick's Day Decorations! Once purchased, you will receive a digital download of the following 3 file... 1 PDF Tutorial 2 Shamrock Patterns (Shamrocks in 4 sizes & Layered Shamrock Ornament) The tutorial is easy to follow. Within its pages, you will find step by step detailed instructions. Pictures are provided to help you along the way. The Tutorial also includes a stitching guide of the types of stitching used to make these decorations. Basic sewing supplies are needed. A full list is provided in the tutorial.